Wednesday, July 06, 2005
Arth (Meaning) -1983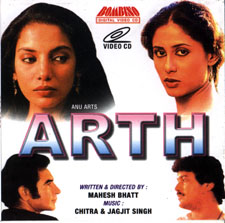 Arth is one of the few good movies that mahesh bhatt directed.The movie is supposedly a cinematic version of his real life affair.The movie was a bold one given the time frame in which it got released. Viewing it now, you might not realize it.But havn't seen any other movie which talks about empowering women in the early 80's.The story supported by some excellent acting from smitha patil, shabna azmi and kulbushan karbanda makes it stand aside from so many movies of that era.
if chakra's amma wanted a home for herself.Her rival in this movie pooja(shabana azmi) wants the same thing.Pooja brought up in an orphanage, dreams of a home of her own with her husband Inder malhotra(kulbushan karbanda).Inder malhotra a film director on the other hand is having a relationship with actress kavitha sanyal(smita patil).kavitha who suffers from psychotic disorders makes inder divorce her wife pooja.When Pooja starts facing life on her own,she comes across Raj(Raj Kiran) who is a singer.Raj is in love with pooja.At that same time kavitha breaks up with inder.Inder wants to get back with pooja.Pooja's choice is the climax of the movie.
The movie as the name suggests is a search for the meaning of love,marriage, relationships and life itself.The movie ends with raj saying that the courage and self confidence that pooja has at the end of the movie is the real meaning of life.A beautiful ending with a bad smile from shabana azmi.
The movie exposes the mistakes of our male dominated society and the different moral scales we use to measure men & woman,rich & poor.
The awesome Rohini Hattangadi plays a cameo as the maid servant at pooja's house.She supports her drunkard husband , who is having an extra marital relationship. It is a clash of titans with the 2 lead heroines.Shabana azmi and smita patil supposedly were competing against each other in the acting department in ARTH.Smita is a force in the movie.She plays the insecure psychotic person with erratic change of moods beautifully.She is someone who is in constant fear, fearing everything from her loneliness to inder's love.
where as for shabana the change in her character is gradual and subtle.It is the transformation of a dependent housewife into an independent & self confident woman.Pooja gets shocked when she hears about her husband's love for the other woman.Then she pleads with him and her, after that she puts up with everything with the hope that things will change, then she leaves his house still harboring hopes of his return.After starting to face life by herself she gets the confidence and even readies herself to take the responsibility for another life.At that point she is not afraid of anything and is ready to face the world all by herself.Acted well by shabana.
Personally if given a chance i would have given the award to smita(she also had another good movie, baazar that year), but the national award for best actress that year went to shabana azmi.Iam not sure whether it is because ARTH is more about pooja(shabana) rather than kavitha sanyal(smita patil).Kulbushan as usual does his part perfectly. The weakest of the characters is raj.He is that all good man character that comes in so many stories that deal with hurt women.He falls in love with shabana just like that and is very persistent about that.Gulshan grover plays the role of smitha's assistant and comes in 2,3 scenes.I was surprised to see the young gulshan gover.There is also Siddharth Kak(producer and presenter of surabhi serial) who comes as pooja's friend's husband.
The story is supposedly from mahesh bhat's own life.Mahesh Bhatt was married to Kiran (Pooja and Rahul Bhatt's mother) and was involved with the
parveen babi
who had schizophrenia.Parveen babi was supposedly upset with him for portraing her as a person with schizophrenia and she broke up with him after that.But the fact is , the movie turned up good cause mahesh was true to the story.You can see that he himself is self critical in the movie.Inder is an egoistic person who takes the women for granted and is happy to do a use and throw.Also the movie shows men(inder, rohini's drunkard husband) in bad light.
The movie won the Best Actress for shabana azmi at the 31st film fare awards.But just the best actress, rest of the awards where swept off by Nihlani's ardh sathya and shekhar kapoor's masoom.Well film fare was Fare in those days.At the national level again only the best actress was awarded to ARTH.Shabana got her 2nd of her 5 national awards and first of her hat trick national awards.That year best actor national award went to kamal for his role in balu mahendra's moondram pirai.
The music director of arth was jagjith & chithra singh.It has some beautiful gazhals.Lyrics by kaifi azmi(shabana azmi's father).I loved
jhuki jhuki yeh nazar
, a beautiful song.
Listen to Arth songs
here