Tuesday, September 13, 2005
Sparsh(Touch)- 1979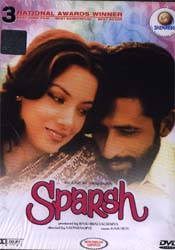 For the mainstream cinema, a blind person is a never ending source of melodrama. They are a cornucopia of sadness, an instrument to extract as much tear as possible from the audience. The blindness is usually mixed with some more sad factors to double the tears. Like most of the time the blind person is a beggar or the hero/heroine who lost his/her eyes in an accident. In short a character you are forced to pity and feel sorry. So by the indian standards these pitiable characters cannot have feelings like ego, anger or pride. They are supposed to be sad and thankful towards everyone who feels pity and helps him. But sai for the first time took a movie which stood away from all these mainstream crap. Sparsh is a movie that is a cut apart, one of the kind movie, that takes you into the mind of blind peoples. It is a movie that does not want u to pity them, but to understand them and think them as one of us.
-----------------story-------------
Anirudh Parmar(Naseeruddin Shah) a blind school principal, is an egoistic, self confident person who doesn't want people to pity him on his blindness, but to understand him. He meets Kavita(Shabana Azmi) a window trying to recover from her husbands death. Kavitha finds a meaning for her life in helping the children's of the blind school and joins the school as a teacher. Love blossoms between anirudh and kavitha. They decide to get married. But differences creep between anirudh and kavitha ,why and what happens to them is the rest of the movie.
---------------------------------
This is a very impressive movie. The question that i kept asking to myself was, what made sai paranjpaye take this movie. We all see blind peoples daily. At most we help them cross the roads.we don't think anything more than that. How sensitive she must have been to there needs, to take a movie like this. She seemed to have understood there emotions and paid attention to the minutest of the details that affect them.
The characters in this movie mainly anirudh's is a complex one. He is an introverted looser, who get's hurt easily and puts on a shield of assertiveness, he never lets his guard down. He is confident, kind and does not want anyone to pity him. He is some one who is blind both physically and mentally. Mentally blinded by his ego(not that different from us on this aspect).On the other hand Kavitha is a lonely widow, who is a giver, a lover. Everybody from anirudh to the small boys in the blind school is attracted to her, including the son of the canteen guy who is not blind. Well everybody needs love and care does not matter whether they are blind or not.
The blind school backdrop of the movie provides so many opportunities for sai to bring up the problems of the blind people. For example the fact that only text books are printed in braille and not many story books are available in braille for the blind children's. She later through a dream story tells how this unavailability of story books in braille steals the blind children's from the imaginary and happy world that normal children enjoy.
similarly shabana explains jagdish(Mohan Gokhale) the story that she is about to tell to the children's in the blind school. The story is that of the lion jumping into the well trying to fight with its reflection in the well. Jagdish, anirudh's assistant stops her and says that she should not tell this story to them as they cannot understand the word reflection. He tells her that she has to tell the students stories where there is more sound related things and not stories like this where there are visual things.
Sai also points out the attitude of the society which thinks that a blind man is not a match for a normal women like kavitha.The sensitive love between anirudh and kavitha, the problems of the blind children's, the attitude of the society and many other threads are wonderfully connected through a great screen play.
Sai's is a very creative person. In midst of all these serious stuff, she provides us a little escape from realism for the audience, no not through songs. But through the dream of a little boy.
The canteen mangers son is sick and shabana comes to know that he was angry with the blind guy because she didn't not pay any attention to him. she goes to see him at his house. He is bedridden; shabana reads a story for him. She tells this story of this rajkumar who saves a princess. The little boy dreams himself as the prince and the grown up shabana as the princess. Suddenly in midst of all these heavy stuff, you are transported into an innocent child's world. It was awesome, it was so sweet. The scene also serves the purpose to let us know, what stories mean to a child, this kid who has seen shabana can dream about her, unfortunately the blind child cannot, they first of all cannot even think about such a story cause there is no story book in Braille and it takes away a dream from them.
Nasrudeen is at his best in this movie. Through out the movie nasrudeen expresses his anger, his happiness, his disappointments, his ego, his hurt through subtle facial expression .He is a character who is strong as well as weak, his stronger sides ego, his confidence, his love everything comes out through his body language.
Cast:
cast also includes
Sudha Chopra .... Manju
Om Puri .... Dubey
Music:
The movie has 3 songs
1)khali pyaala
2)pyaala chalke
3)geethon ka dhuniya
Sparsh was sai's big movie that brought her into the lime light. Again i feel only a female director could have made a movie like this.The movie was Produced by basu bhattacharya.
Awards:
The movie got nasrudeen his first national award in 1979.Unfortunately that year sai has to compete with Mrinal sen's Ek Din Prati Din,Biplab Roy Chowdhari's Shodh and Durai's Pasi.The best direction, movie and actress went to mrinal, shodh and shobana for the respective films.
Think this movie was commercially released only in 83/84.It won the best film, director and dialogues awards at the 32nd film fare awards festival competing against Mahesh Bhatt's saaransh, Pravin Bhatt's bhavna & jaane bhi do yaaro.
Trivia:
Nasrudeen actually spent 1 week at Blinds school to learn the way they walk, see & feel things around. He almost irritated the principal by his observations.
Links
Nasrudeen shah