Monday, September 19, 2005
Disha (Direction) -1990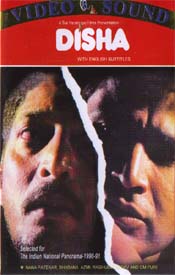 Again another movie that comes with the sensitivity of sai paranjpaye.Disha carries a strong social message compared to her other movies. It deals with the problem of migration of villagers. It explores what makes the villagers to migrate to the cities ,the social implications of migration and how things could be changed in the villages through the life of two villagers, Vasant Mandre(Nana Patekar) and Soma(Raghuvir Yadav).
--------------story--------
Parshuram Sarpat(om puri) is soma's brother.who lives with his wife Hansa(Shabana Azmi) and his children's.He plays the role of this poor villager who is obsessed in digging a well in the rocky terrain.
Vasant and soma are from a drought ridden village. Vasant's father Dashrath Mandre(Nilu Phule) finds him a girl phulwanti(Rajshree Sawant) and arranges a lavish marriage for vasant.Debt and Drought driven both vasant and soma move to bombay. They live a hard life in bombay, sharing a single room with 20/30 guys and taking shift to sleep etc. At the same time many changes happen back home in the village. They are forced to take decisions on there stay in bombay. what decision they take is the climax.
-----------------------------
Every day big cities like bombay take 100's of immigrants. These immigrants step into a city that is already crowded and breaking at its seam. These immigrants are allured by money and the glamor portrayed in the regular movies. In a regular movie, when a villager migrates to the city there is always a heroine to make him rich or in a song he hard works and becomes a billionaire from a beggar. These kind of images makes the villagers think that immigrating to cities shouldn't be a problem at all. Sai on the other hand goes to give a true account of a immigrants life .The problems the villagers face after coming to a congested city like bombay and social impact of it in their village. A couple of movies like this which gives a true picture of the living and working conditions of immigrants will go a long way in changing the immigration idea of the villagers.
Sai in her own words tells what prompted her to write a story like this.

About fifteen years ago, I met a man in Naigaom in rural Maharashtra, branded a madcap by his village. He had been digging a well in his small patch of arid land, convinced that there was water down below. He had the last laugh. He struck water after sixteen years of digging. Over the years, I came in contact with man mill workers, immigrants all. Villagers come to Bombay in search of work. I visited their dingy dorms, galas- where men slept in shifts. Forty to one room. Their living conditions shocked me, but what evoked profound admiration was their cheerful spirit and valiant tenacity in the face of all odds. Their heroic struggle made a deep impression on me. The well digger and the Bombay mill-workers haunted me for a long time. Disha is the outcome of this long association. It is a film about the people who keep flooding into the `city of no return.
sai has nicely woven her own experience into the story and end the movie positively.
Good acting by everyone. The cast also includes Joy Sengupta, Sayaji Shinde and many other familiar faces. Achyut Potdar comes as the manager of a bidi factory.